Classes
Drop in sessions
Drop in sessions are currently held on Tuesday and Thursday anytime from 9am - 4.30pm . Tea and coffee is available as you wish. You also have access to a fridge and microwave for lunch or snacks. There is a small charge for attendance and a further charge if you bring a sewing machine.
For more information call us on 08 8948 0691.
Monday Night Group
Currently we have a group meeting from 6pm - 9pm eqach Monday night. Numbers are limited.
Beginners Classes
At present we are only holding classes on a Monday afternoon 1pm - 4pm contact the shop for possible dates. Our beginners classes have limited numbers.
Bookings
We do not accept bookings for classes online. If interested pleasecontact the shop by email or phone.
Workshops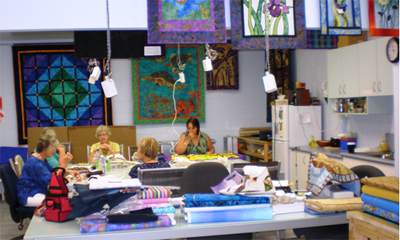 Workshops and group meetings are conducted in a well set up room with lots of light, large tables, power dropped down from the ceiling and tea and coffee making readily available.
We have had many classes in the past. These have included beginners classes in Applique, Stained Glass and Foundation Piecing and advanced workshops with Jane Grove.

We conduct classes when teachers and numbers are available. A minimum of three is required for a class. Our class size never exceeds six. Half deposit is required to secure a booking.

This website is owned & operated by Judith Walker Trading as Dragonfly Fabrics